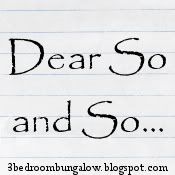 Dear Pillow Pals...
How can you be out-of-stock?! With only a little over two weeks until my grandson Dylan's 4th birthday, I was sure I could sit down and order one this morning and have it here with plenty of time to spare. Argghhh.
A survivor of the Cabbage Patch Doll frenzy of the 70s but not ready to shell out $74.99 on Ebay for a Squeaky Dolphin,
Disgruntled Grandma
-----------------------------
Dear Nessa,
I feel like a fraud. I have discovered your wonderful blog and I know who you are...in fact, I remember you in diapers. But you don't have even the remotest clue in the world who I am. I have left a couple of comments with my screen name but no link to here...even if you ever came here I'm not sure you'd figure out who I am! The reason I hesitate to let you know that I 'know' you is because I'm afraid it would inhibit you, and your 'writer's voice' is so wonderful in its un-paranoid state - I am, after all, of your 'parents' generation - I wouldn't want to do anything to ruin it. So...I will continue to read. And continue to comment. And leave you in blissful unawareness.
Your Anonymous Fan,
MissKris
------------------------------
Dear John....
You are a quiet warehouseman at a plumbing supply store nearby who my grandboys and I have befriended over the past year. They love to watch you drive the forklift whenever we walk by. Your friendly smile, soft-spoken voice, and gentle demeanor have endeared you to them. Until the other day, I had never seen Dylan walk up to someone on his own and offer his hand to shake...but he did to you. And you so seriously and respectfully shook hands with him like he was another man, not just a little boy. You don't know this, but you are an angel to me.
So thankful there are still people like you in this world to be role models for little boys,
Double-stroller Grandma
---------------------------
Dear Anonymous Person who dropped 8 cents on the ground and figured they were of no value to you...
Thank you for not caring, because the grandboys and I spotted them in the barkdust on the curbside yesterday during our walk. They were as excited as if they'd found buried treasure! They picked them up and deposited them in my jacket pocket and when we got home we put the coins in their piggy bank. Dylan told me, "Grandma, our piggy bank's getting FULL UP!" Well, if he thinks so...it's a discarded glass gallon wine jug my neighbor Sonny gave me in place of the little plastic pig one Dylan told him had split in two. The coins in there measure about an inch or so deep, but Dylan is a diehard optimist.
Gonna donate them to my grandboys' college educations, yes indeed.
So did you.
Getting closer to that $200,000 goal every day,
Grateful Grandma
------------------------------